The James T. Flaherty Law School Scholarship for United States Navy Veterans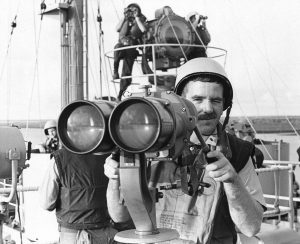 $600 Scholarship – Current and Incoming Students
Scholarship for Navy Veterans
Attorney James T. Flaherty, a 6-year veteran of the United States Navy, understands the financial pressures faced by Navy veterans pursuing a law degree. James earned a Navy ROTC scholarship that paid for his undergraduate education at Tufts University.  After his service in the Navy, which included tours of duty in Vietnam and the Pentagon, Attorney Flaherty enrolled at SUNY Buffalo School of Law. The Attorney James T. Flaherty Scholarship was established to help ease financial strain for U.S. Navy veterans who want to attend law school.
Eligibility
To apply for this scholarship, you must satisfy the following requirements:
Be accepted or enrolled in an accredited law school;
Maintain a minimum 3.0 GPA;
Be a veteran of the United States Navy.
Format & Topic
 The 2017 Scholarship Format is a 1-2 minute Video Essay
The Topic is:  "What Experience in your U.S. Navy career had the most impact on your desire to study law?"
Please note that we will be publishing the very best of the great videos we are expecting on this topic! For this reason, please note that if you submit a video application, you are consenting to have it published on our website or through other channels unless you specifically request otherwise.  We really want to share your excellent ideas with others!
Please have your video uploaded and the URL emailed to us by February 1st, 2017 at 9am.
Application Process
Please upload your video to one of these platforms:
In the email, applicants must include: Full name, date of birth, home address, email address, contact phone numbers, current school attended and (intended) course of study.
After the application period has closed, we will review all submissions and decide on a winner by March 1st, 2017
All media enquiries to eflaherty@flgfamilylaw.com
About Attorney James Flaherty
Jim Flaherty is a family law attorney practicing in Connecticut.  With more than 3 decades of experience, Attorney Flaherty helps residents in West Hartford, Hartford,  Canton, Farmington, and towns throughout the state of CT navigate the inherent challenges of domestic legal matters.
James Flaherty handles complex family law cases using a team-based approach with his talented partners at Flaherty Legal Group, LLC, Sandi Girolamo and Pamela Magnano.  Recognized by clients, peers and prominent legal ratings services for legal ability, ethical standards, and experience, James Flaherty is a lawyer who emphasizes communication, courtesy, accuracy, professionalism and quality with everyone with whom he works.