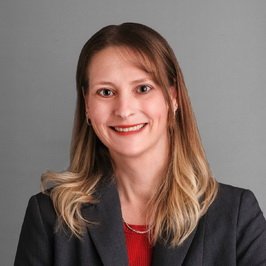 Sandi B. Girolamo practices family law and appellate work. She has appeared, argued and written briefs and motions in the Superior Court and the Connecticut Appellate Court. She has tried numerous family law cases, including at the Regional Family Trial Docket. Attorney Girolamo has published decisions from the Connecticut Appellate Court and the Connecticut Supreme Court. Attorney Girolamo tries family law cases involving dissolution of marriage issues and post-judgment matters. Her trial experience includes a six-day post-judgment custody trial at the Regional Family Trial Docket and a nine-day dissolution of marriage trial in the Hartford Superior Court. One judge commented at the end of a trial that Attorney Girolamo "exhibited the very best in family lawyers. She presented her case and examined witnesses in a way consistent with the rules of evidence, in a logical manner, and in a way that I think all family lawyers should emulate, and that is vigorously defending her client's rights but not becoming so emotionally involved in the case that you lost sight of the ultimate goal."
Attorney Girolamo also believes that not every case should be tried and that a settlement usually better serves the client's needs and interests. Therefore, Attorney Girolamo participates in mediations to resolve her cases. She serves as a mediator for couples seeking an amicable resolution to their pending divorce and she serves as a Special Master for the New Britain Superior Court, Tolland Superior Court and the Hartford Superior Court. Attorney Girolamo has been selected to Connecticut SuperLawyers™ in every year since 2011, and to Connecticut Rising Stars in 2010. In September 2010, the Officers of the Family Law Section of the Connecticut Bar Association selected Attorney Girolamo as one of five Rising Stars in Connecticut Family Law. In 2022, Sandi was elected to the Connecticut Bar Foundation James W. Cooper Fellows Program.
Attorney Girolamo graduated in 1993 with a Bachelor of Arts in Political Science and English from the University of Connecticut. In 1998, Attorney Girolamo began attending Quinnipiac University's Law School at night while working full-time as a paralegal. In 2001, Attorney Girolamo received her Juris Doctor degree, summa cum laude, and she ranked second in the evening class and in the top 10 percent of the entire graduating class. While in law school, Attorney Girolamo also received the American Jurisprudence award in Workers' Compensation. Attorney Girolamo is admitted to practice in Connecticut State Courts and the U.S. District Court, District of Connecticut. She also has served as co-chair for the Connecticut Bar Association, Young Lawyer's Family Law Section, and she currently sits on the Children Law Center's Development Committee. Attorney Girolamo has chaired several seminars on family law topics and was featured in an article on juggling a legal career and motherhood.
Attorney Girolamo was born in 1971 in Kentucky. She spent most of her childhood in New Jersey. After graduating from the University of Connecticut, she decided to establish her career in Connecticut. She is married to a schoolteacher, and they currently reside in Newington with their two children. Attorney Girolamo's community activities include teaching gymnastics classes and participating in her daughter's school PAC and her son's school PTO.
Bar admissions
Connecticut, 2002
U.S. District Court, District of Connecticut
Education
J.D., summa cum laude, Quinnipiac University, 2001

Recipient, American Jurisprudence Award in Workers' Compensation

B.A., University of Connecticut, 1993
Awards and recognition
Connecticut Super Lawyers (Selected in every year since 2011)
Elected to the Connecticut Bar Foundation James W. Cooper Fellows Program
Connecticut Rising Stars, 2010
CT Bar Association Family Law Section Rising Star 2010
Professional associations
Connecticut Bar Association
Hartford County Bar Association
Published decisions
OFA v. Doody, Appellate Court of Connecticut, 124 Conn. App. 1 (2010)
Deegan v. Simmons, Supreme Court of Connecticut, 282 Conn. 922 (2007)
First Union National Bank v. Eppoliti Realty Co., Inc., 99 Conn. App. 603 (2007)
Marlin Broadcasting, LLC v. Law Office of Kent Avery, LLC, Appellate Court of Connecticut, 101 Conn. App. 638 (2007)
Mangiante v. Niemiec, Appellate Court of Connecticut, 98 Conn. App. 567 (2006)
Logan v. Logan, Appellate Court of Connecticut, 96 Conn. App. 842 (2006)
Kessler v. Restoration Associates, Inc., Supreme Court of Connecticut, 275 Conn. 916 (2005)
Fox v. Zoning Board of Appeals of Town of Barkhamsted, Appellate Court of Connecticut, 84 Conn. App. 628 (2004)
Mangiante v. Niemiec, Appellate Court of Connecticut, 82 Conn. App. 277 (2004)
Szajnberg v. Szajnberg, Supreme Court of Connecticut, 266 Conn. 904 (2003)