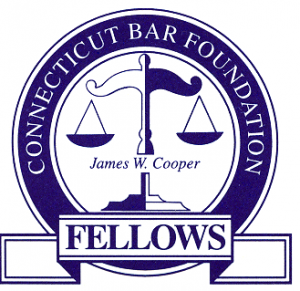 ATTORNEY SANDI BETH GIROLAMO AND ATTORNEY PAMELA MARIE MAGNANO ELECTED TO THE CONNECTICUT BAR FOUNDATION JAMES W. COOPER FELLOWS PROGRAM
Hartford, Connecticut (February 7, 2022) – Attorney Sandi B. Girolamo of Newington, CT, and Attorney Pamela M. Magnano of East Hampton, CT, were elected 2022 Fellows of the Connecticut Bar Foundation (CBF) James W. Cooper Fellows Program. Fellows are nominated by their peers based on their outstanding service to the profession and larger community and are elected by the CBF Board of Directors. "We are pleased to recognize our new Fellows for their distinguished services to our legal system and for their commitment to the principles of equal justice and the rule of law," said Timothy Diemand, President of the Connecticut Bar Foundation.
The purpose of the James W. Cooper Fellows Program is to promote a better understanding of the legal profession and the judicial system among the citizens of Connecticut, and to explore ways to improve the profession and the administration of justice. "We offer a warm welcome to the new Fellows, and look forward to their support and collaboration in producing the many Fellows programs at the CBF that help to advance the legal profession and the administration of justice in Connecticut for the benefit of all, regardless of power or privilege," the Honorable Juliett Crawford, Chair of the Fellows Program, added. Programs developed by the Fellows include several speaker series, symposia, roundtable discussions, mentorships, a high school essay contest, and a Fellowship for recent law school graduates. More information about these and other Fellows programs can be found at www.ctbarfdn.org.
The Fellows Program is now in its 27th year. In addition to lawyers in private practice, the group consists of U.S. Court of Appeals judges, U.S. District Court judges, Connecticut Supreme, Appellate, and Superior Court judges, corporate counsel, attorneys in non-profit associations and legal services agencies, and government lawyers. The program also includes law school deans, former deans, and professors of law, past and current leadership of the Connecticut Bar Association and other bar associations, and present and former government leaders.
The Connecticut Bar Foundation is a philanthropic organization that develops and administers programs to enhance the understanding and improvement of the law and legal institutions, and it sponsors educational symposia.  The CBF administers several grant programs that fund the delivery of legal services for Connecticut residents who cannot afford an attorney, including the Interest on Lawyers' Trust Accounts and the Interest on Trust Accounts programs, the Judicial Branch Grants-in-Aid, and the Court Fees Grants-in-Aid, as well as the new Right to Counsel program in the state.
RETURN TO NEWS & RECOGNITION PAGE